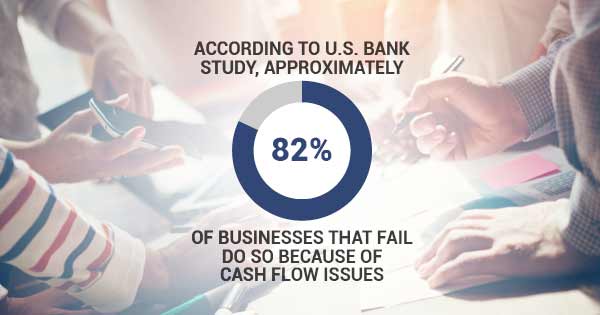 Small businesses, which are defined as organizations with fewer than 500 employees, account for 99.7% of all business in the United States. Companies with less than 20 employees account for a staggering 90%. For the majority of these smaller companies, it can be difficult to succeed early on. There are all kinds of reasons for a company's early struggles, including a competitive market, little-to-no brand awareness, and inexperienced staff members. But one of the main reasons a new business finds it difficult to grow and succeed can be attributed to cash flow problems.
In fact, according to a U.S. Bank study, approximately 82% of businesses that fail do so because of cash flow issues — likely even higher for small organizations.
So, what can a business that's just starting out do to handle all their financial needs? Luckily, there are professional accounts receivable financing companies that can help with just that and provide business factoring loans, business credit funding and small business loans, and offer all kinds of invoice factoring solutions.
Invoice factoring:
Business factoring loans are a type of accounts receivable financing that converts outstanding invoices into instant cash for your business. Invoices can be outstanding for up to 90 days, which can make it difficult for your company to meet essential financial obligations during that time. Waiting nearly three months to get paid will seriously impact your cash flow and you could find yourself in extreme financial trouble. How are you going to pay your staff? With invoice factoring, however, you'll be able to turn those outstanding invoices into immediate cash, subsequently allowing you to use that money to help the rest of your business grow.
Using these invoice factoring solutions to sell your accounts receivable invoices to a third party (factor) will help your organization meet all your present and immediate cash needs. Keep in mind, it's imperative for you to diligently monitor every financial transaction your company makes, especially during the first few months. Whether you're having cash flow issues at the moment or not, losing track of debts owed and invoices outstanding can be very damaging.
Don't let your small business fall behind because of cash flow issues — get on top of your finances right away and start receiving the money you earned. If you want to learn more about business factoring loans, business credit funding, or any other aspect pertaining to accounts receivables, give the professionals at Eagle Business Credit a call today.