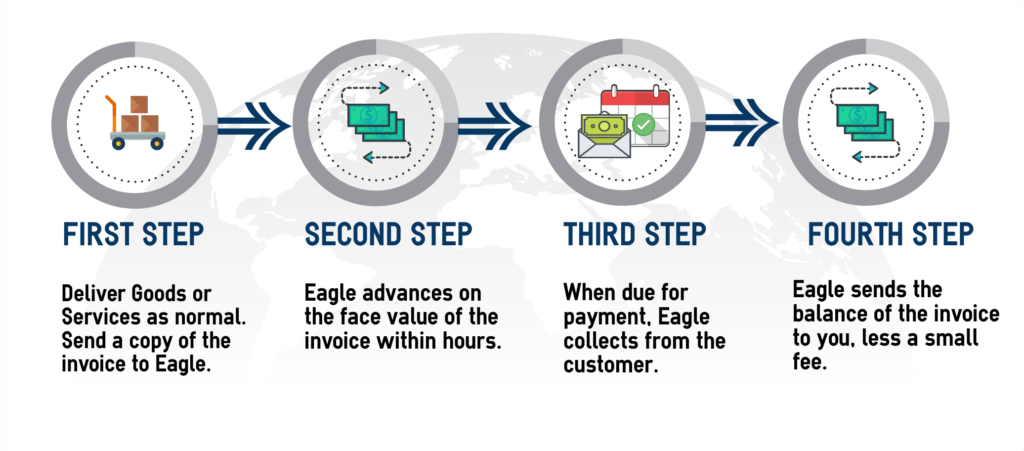 Factoring is the sale and purchase of accounts receivable (invoices) for immediate cash. A business that uses a factoring company for financing no longer has to wait 30, 60 or even 90 days to get paid by their customers. The typical advance rate is 85% but can be higher for certain industries like staffing and transportation.
It will usually take about 48 hours to get your first funding set up. We understand your needs and have an easy process in place to get you started quickly, allowing you to continue to grow your business and soar ahead of your competition. Once on board, we fund you in less than 12 hours of receiving your invoice schedules.
You perform your service or deliver your products. Once you have completed your sale or service, you create your invoice as normal and send it to us for an immediate advance. We then wait for payment from your customer while you continue to build your business with the improved cash flow that our facility is providing you, undertaking all the receivables servicing needed to get the invoices paid on your behalf.
No, you can send us what you want to. We do not require you to factor the customers that already pay you quickly.
Yes! Unlike most banks, we offer our factoring services to both brand new and established companies.
NO! Invoice factoring is not a loan. It will not show on your company balance sheet, nor will it show up on credit reporting agencies. Best of all there are no repayments for you to worry about as we get repaid by your customers when their invoices fall due for payment.
Answer: NO! Our approval is based on the strength of your customers rather than your personal or your company credit profiles.
Answer: We check the credit of your customers for the benefit of your company and Eagle Business Credit. We want to do our best to ensure that you are dealing with businesses who can pay as part of our receivables servicing program.
We have the best online services in the industry. You will have complimentary 24/7 online access to your account information. You will be able to see copies of your customers checks that we have received and all your account activity as well as being able to run reports to help you manage your account and your business.
READY TO GET CASH FOR YOUR BUSINESS NOW?
Call us today and find out how easy it is to turn your unpaid invoices into funds you can use to grow tomorrow.