As a small business owner, things like financing and credit scores are on your mind. Every business needs a steady source of financing and strong cash flow. Business owners with bad business or personal credit also need to finance their business. When a bank might reject an application for bad credit, other financing options are available. Here are some small business financing options for bad credit.
Does Business Credit Affect Your Financing Options?
Business credit does have an impact on a business owner's access to funding. It can determine whether you are approved or denied. It can also determine the cost of funding through interest rates or fees. Bad business credit is not a death sentence for your business, and there are plenty of ways you can improve your business credit.
Personal Credit and Business Financing
Personal credit can also affect options for business financing. Many business lenders evaluate personal credit when making approval decisions or underwriting a loan application. Having bad personal credit can lead to rejections or limiting of financing amounts. It is not hopeless for business owners that have poor personal credit. Some alternative financing options do not require high personal credit scores.
What Are Some Business Financing Options for Bad Credit?
Bank Financing
Online Loan
Merchant Cash Advance
Invoice Factoring
A bank loan or line of credit might not offer enough financing if you do not have a high personal or business credit score. Online loans can offer an attractive alternative. Some online lenders have more relaxed qualification requirements. Be wary of the costs of online loans. Some lenders tuck away hidden fees and disguise the high costs of funding in confusing terminology. Be sure to read all documents before you sign.
Merchant Cash Advances or MCAs typically approve all applicants, but these cash advances can come at extremely high costs. Your business may benefit from an MCA, but it will not be a long term financing option. There are horror stories of stacking MCA loans–taking multiple cash advances–and this can lead to a debt cycle if you are not careful.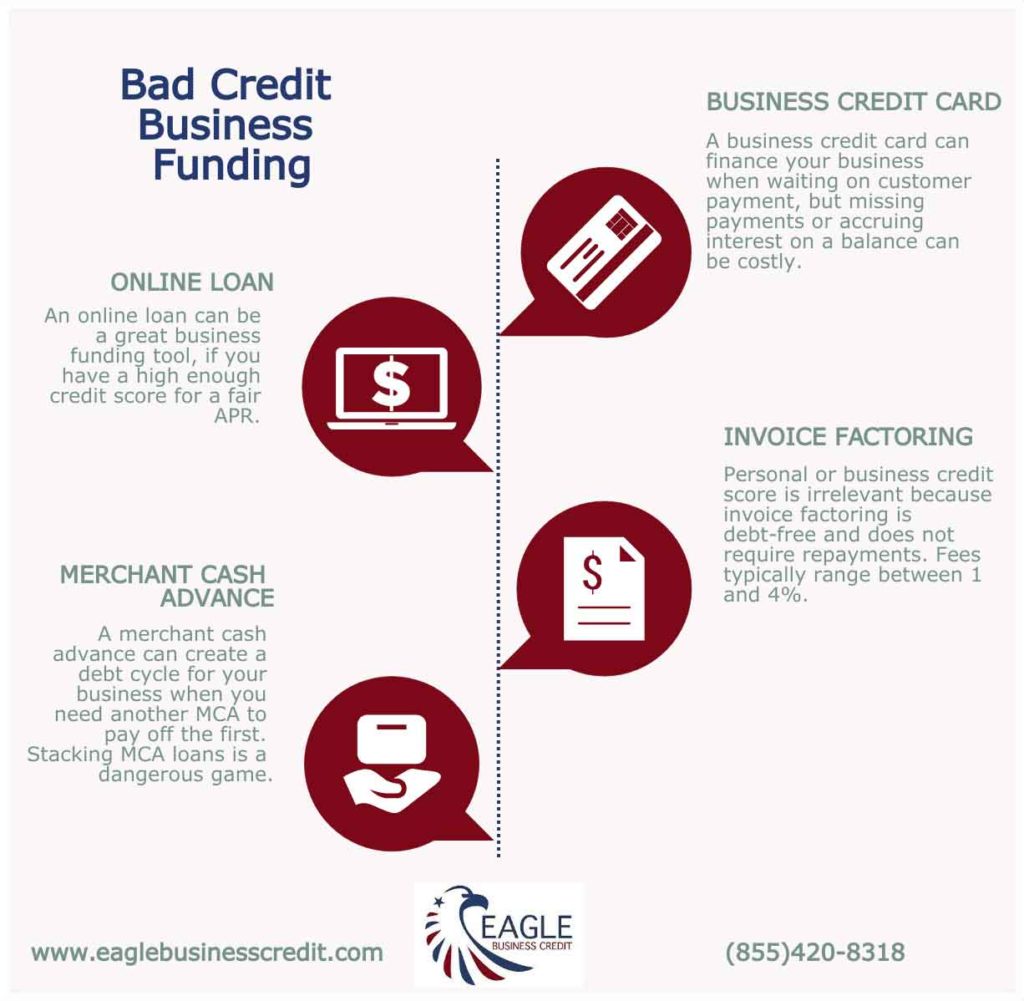 Invoice Factoring as a Business Financing Option for Bad Credit
Invoice factoring is a business financing option that can fund businesses with poor business credit. Factoring can also fund business owners with poor personal credit. The cost of factoring will not be insanely high, and your financing amount will not be limited due to bad credit. Instead, factoring underwriting looks at the strength of your business and the credit worthiness of your customers.
Why can invoice factoring fund bad credit applicants?
Invoice factoring is a business funding method that works by advancing money on open invoices. This means that a business selling to other businesses on credit terms can be paid instantly for their goods or services. By cutting out the waiting period of selling on credit terms, a business owner can have the cash on hand to make more sales and grow. Since factoring relies on your customers to pay, your credit is not important to a factoring company. Factoring companies like Eagle Business Credit can approve companies whether they have good credit or bad credit. Factoring services provide improved cash flow, so a company can grow and build their credit at the same time.