FACTORING:

A FINANCE SOLUTION FOR YOUR BUSINESS IN ILLINOIS
Small Business Financing in Illinois
Eagle Business Credit offers invoice factoring services to small or medium sized businesses across Illinois. We offer working capital funding throughout Illinois from Chicago to Springfield and everywhere in between. Factoring is a small business financing solution that grows with your business. This means there is no need to reapply for more financing. As you grow, your facilit limit can grow, too!
Invoice Factoring Company in Illinois
Online loans offer fast funding, and bank loans offer inexpensive funding. Invoice factoring is fast, reliable, and growth-enabling. Without the repayments and high fees associated with online loans, factoring services are debt-free and improve your cash flow rather than hurt it. This means your business can grow with a healthy stream of money flowing into it. Selling your invoices to a factoring company in Illinois means not waiting for your customers to pay. Instead, your business has immediate cash to cover overhead, payroll, and any bumps in the road that come along. Working capital funding solutions allow your business to grow by having the financing and flexibility to do so.
Illinois has a diverse economic base with industrial cities, agricultural operations in central Illinois, and natural resources in the south. The Port of Chicago connects the state to the Mississippi River and the Atlantic Ocean, leading to Illinois' status as major transportation hub. Once the "Hog Butcher for the World," Chicago still has a strong presence in the food manufacturing and meat processing industry. The Prairie State is home to 34 Fortune 500 companies.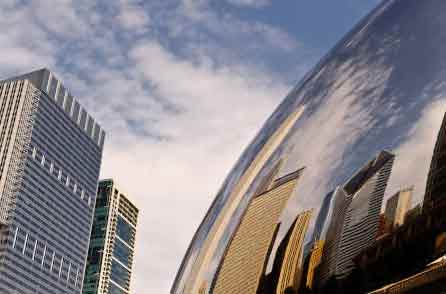 Manufacturing
Agriculture
Transportation
Energy
Finance
Eagle Business Credit Offers Working Capital Funding Across Illinois!
Eagle Business Credit serves businesses across Illinois, including those in Aurora, Chicago, and Springfield. Chicago offers a strong manufacturing workforce of almost 500,000 people. Chicago is still well-known for its food manufacturing, hosting companies like Wrigley, Kraft Heinz, and Tootsie Roll Industries. Aurora is heavy in the manufacturing industry and nearby the Illinois Technology and Research Corridor, the concentration of office parks, institutions, and colleges within the research and technology sectors. Springfield, the state capital, is dominated by government employment.

A State to Start Your Business
Walgreens Boots Alliance is headquartered in Deerfield with around 3,200 employees. Walgreens has plans to open a new office in Chicago to house 1,800 employees.
Boeing Co. is based in Chicago. Boeing, the world's largest aerospace company, moved to Chicago in 2001 from Seattle and employs over 140,000 people globally.
Archer Daniels Midland, a food processing and commodities trading corporation, is headquartered in Chicago. In three consecutive years, 2009 to 2011, Forbes named ADM the world's most admired food production company.
State Farm Insurance Co. is headquartered in Bloomington, and Allstate is headquartered in Northbrook.
How can business invoice factoring help your Illinois business?
Quit worrying about getting working capital for your business. We cover that. You focus on growing your business, finding new customers, and let us finance your receivables. Our invoice factoring services give you cash immediately without having to wait on the collection of open invoices. Eagle Business Credit supplies the working capital funding your business needs to meet, manage, and exceed your dreams.
READY TO GET CASH FOR YOUR BUSINESS NOW?
Call us today and find out how easy it is to turn your unpaid invoices into funds you can use to grow tomorrow.