Growing businesses can find themselves strapped for cash. This is because expansion means rising costs in overhead, supplies, and payroll. 82% of business failures are caused by cash flow, so it's important to trim down the unnecessary costs of business. Even running a lean operation, chances are that there are areas in the budget to reduce spending and increase your available working capital.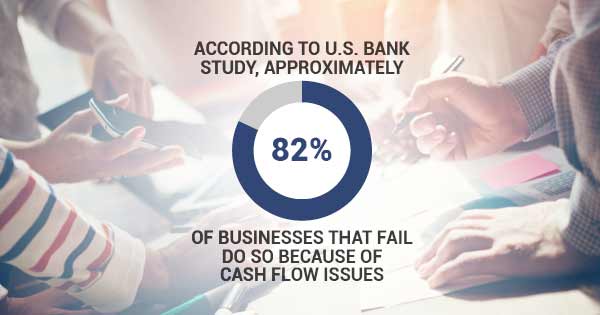 Unnecessary Small Business Costs:
Accounting
Human Resources
Office Space
Technology
Late Payment Fees
Extraneous Personnel
Times of Crisis
Another reason you may need to trim down your unnecessary business costs is during an economic downturn or unforeseen circumstance. COVID-19 and the effects of flattening the curve is definitely categorized as a downturn and unforeseen. If your cash flow is hurting due to being in an affected industry, slowing production, or customers in affected industries then you will need to trim your unnecessary costs.
Accounting
Accounting processes are necessary in every business. Tasks like credit risk management, receivables management, and accounts payable determine the financial health of the company. Accounting software makes it easier than ever in history to track spending and payments. Making payments to other businesses on-time or early can build business credit and open your small business to inexpensive financing options like bank loans. Consider outsourcing your accounting duties to cut your overhead costs.
Human Resources
Managing payroll each month, PTO, and providing services to your employees are all necessary to a strong business. Unfortunately, these administrative tasks can eat into your time and budget. Consider outsourcing HR duties to a third party to save on the time and financial expense an HR department would cost. Additionally, some HR companies offer benefits to your employees that you otherwise may not be able to provide as a small business.
Office Space
Is your office space larger than you need? Many companies offer remote work to team members than can function outside the office space. This helps save on overhead costs that are unnecessary to operations. Assess the essentials your business needs for an office space and adjust your expenses accordingly.
Technology
Are there any programs or software that you are paying for that you do not utilize to the fullest? Consider trimming back on unnecessary technology. IT may sound great during the sales pitch to subscribe to a system that streamlines operations, but if you don't train employees how to maximize the benefits of the system then it becomes an unnecessary expense. You must decide between investing time in training employees to use the technology or get rid of the technology.
Revisit Budget
Part of owning your own business means revisiting your business plan and budget. Is your company still on track to achieve your goals? Update your business plan and determine what is essential and what is non-essential to your company. Expanding into a new market is exciting, but is it a distraction to your core mission? Is the timing right for product expansion or are you chasing a passion project that is ultimately not adding value to your operations?
Personnel
This is a difficult area to adjust. It is hard to disentangle emotions when it comes to downsizing personnel, but is it better to let one employee go or to hemorrhage your business finances until bankruptcy? Outsourcing tasks to freelancers or third party companies can ultimately save money for your business. Additionally, using a staffing company is a smart choice when adding employees. A temp gives you a trial period to see if the employee meshes with company culture and makes the best fit for the team.
Vendor Discounts
Selling on credit terms can be harmful to a company's cash flow. When it takes 30 to 60 to 90 days to receive payment for your goods or services, it can be difficult to maintain operation costs. This applies to your suppliers and vendors as well. Ask your vendors for a discount for early payment. Often suppliers will give a discount for quicker payment to improve their own cash flow. If you have the cash flow to support the notion, you can pay your suppliers early at a lower cost!
Improving Cash Flow
Improving your own cash flow will reduce the stress on yourself and your team. Having the financial breathing room to focus on running your business can improve morale and productivity in the office. One way to improve your cash flow is through invoice factoring services from a factoring company. Eagle Business Credit offers cash flow improvement services by giving immediate payment on your open invoices. Freeing up your working capital means having the ability to offer early payment to your vendors, meeting payroll on time and every time, and having the freedom to streamline your processes with systems you can now afford.
A major time and financial resource drainer is accounts receivable management. Extending credit terms is necessary when selling to other businesses. Being careful about monitoring credit risks is an ongoing need. Having customers unable to pay for your goods or services can create a ripple effect and bring your own business down with them. Invoice factoring services that include free credit monitoring and professionals with decades of experience and advice can help mitigate credit risks in your portfolio.
If you're proactively looking each year in your budget and looking to trim some costs out of your overheads–not just staff, not just marketing–look at other things that you can potentially save money on. For example, if your lease is coming up during the next year maybe you can downsize a bit. Maybe you can have people working remotely. It can save you a bunch of money in terms of rental expenses if you don't need all the space that you're currently carrying.
Also, look at outsourcing. So, there's a lot of services that you can use now, particularly accounting services to name but one. And if you do it on a part-time or piecemeal basis, then you can save yourself a lot of money.
Also, look at HR. So, for example a PEO (professional employer organization) that can save you money by pooling costs for health care and other services that are available. Yes you'll pay for their services, but it might be cheaper than say having an HR manager. And you can offload some of that employment risk to that company as well.
How about technology? Any other ways you can streamline things? Using an IT services company? Again, look at all those costs. Sometimes it's very easy to move things to a cloud situation. That will save you server upgrade costs or software license costs if you don't need it. There's a lot of different ways you can trim money.
Then look at discounts. If you pay people early you can negotiate discounts. If you don't have the cash flow to pay them early, well look at factoring. It's not expensive. It can free up your working capital. You can go then and take advantage of getting vendor discounts and other things to help save you unnecessary business costs.