It's important to plan ahead with small business funding. In a perfect world, you would have a flexible funding option that grows in line with your business growth. If you secure a large order and need more cash on hand to fulfill it, you may scramble for extra cash and look for fast ways to fund your business. If your business suddenly dips in revenue, you may need to find a solution to cover your expenses while you make more sales. There are many scenarios where you will need to find fast small business funding. Here are your options for getting working capital quickly.
Fast Small Business Funding Options
Merchant Cash Advance
A Merchant Cash Advance or MCA is a fast way to fund your business. MCAs work by providing a lump sum of money and then taking daily or weekly repayments based off your daily sales. While an MCA will work fast and has very easy approval requirements, you must be cautious before taking one for your business. There are many horror stories of MCA repayments draining a company's cash flow and putting the company out of business. In addition, many Merchant Cash Advance lenders will lend to businesses with existing MCAs. This is referred to as stacking MCA loans. If your business has stacked MCAs, you need to talk to a finance professional immediately to figure out how you can pay those off. They will hurt your cash flow, and it is not a sustainable solution.
Short Term Loan
Term loans with periods of less than a year can work quickly to fill your business financing need at slightly higher cost than a longer term loan. Online term loans in particular can be fast business funding options if you meet the approval requirements. Qualifying for an online loan is typically easier than a traditional bank loan, it will be more costly and you will need a decent credit score, two or more years in business, and minimum revenue requirements. These repayments can also be daily or weekly, so it's important to understand what the impact this financing will have on your cash flow. Remember, speed of funding is important, but your business' cash flow is more important.
Invoice Factoring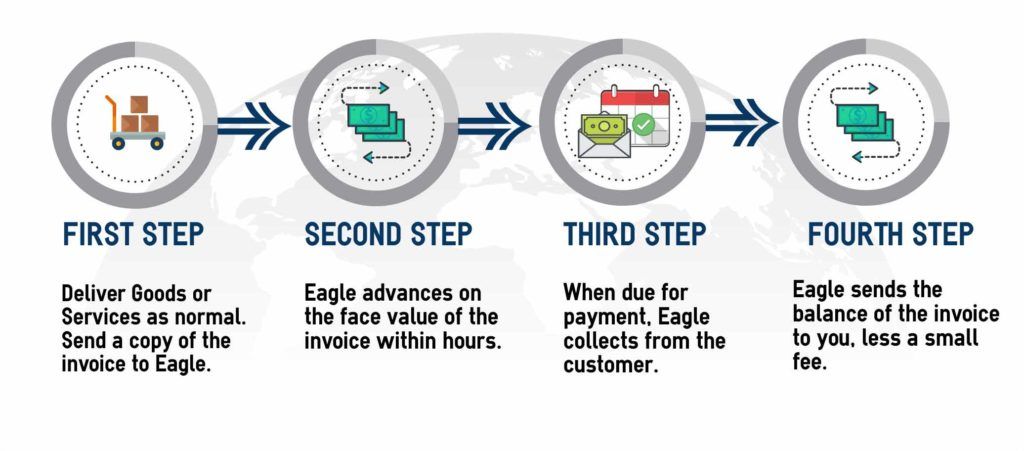 Invoice factoring, also known as accounts receivable financing, is a fast way to fund your business. This funding option is slightly different because it is not a loan and does not require you to make repayments. Instead, it is an advance on your business' open invoices. Accounts receivable funding can provide cash to your business in as little as 24 hours. Factoring benefits companies that sell B2B on credit terms. It focuses on improving cash flow, and it is easier to qualify for factoring than many other funding options.
Your business does not need a minimum time in business, minimum revenue, or high credit score. Instead, approval decisions are based on the strength of your customer. This is one of the more flexible funding options that wont penalize your business for increases or decreases to your business. The amount of funding is tied to your A/R, so the more you sell, the more funding you have.
Line of Credit
A line of credit is also great for its flexibility. You only pay interest on what you draw. So, if you have a large line but only use some of it, you only pay interest on what you borrow. Online options for a line of credit can offer lower approval requirements. The tradeoff is that online lines of credit will be more expensive than a traditional bank line of credit. Funding for a line of credit will be fast. The biggest drawback is that a line of credit may not offer enough financing for your business, so this may be an option you choose to use in tandem with another financing solution.
Which Fast Funding Options Is Right for Your Small Business?
These are just several popular small business funding options that work quickly for your small business needs. There is no one right answer when it comes to the best funding option for you. There are benefits and drawbacks to each of these options, and you can use a combination of these options to make up the financing plan for your business. With any financing agreement, you should read the contract very carefully and make sure that your financing proposal will fit your business' unique needs. Be sure to focus on your cash flow when looking for business funding. If you don't have strong cash flow, your business will struggle to grow or even survive.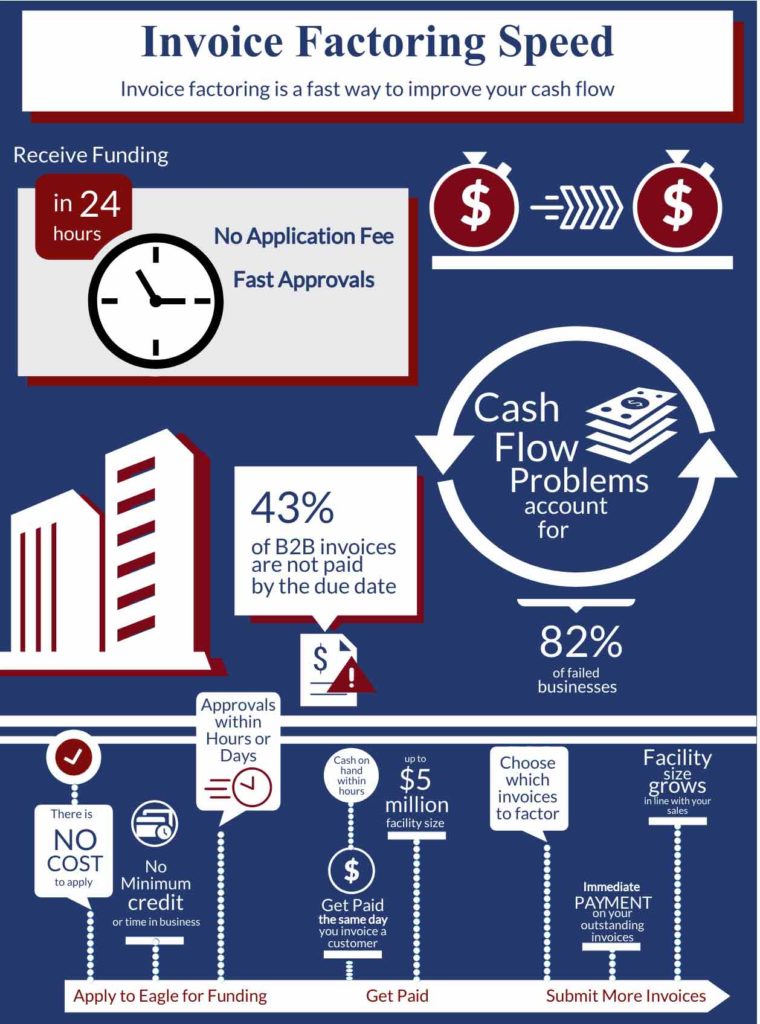 Eagle Business Credit is a factoring company that works to fund small businesses from startup to $5 million in facility size. Approval requirements are not based on your credit or time in business. We fund businesses in many industries. As long as you sell to other businesses on credit terms, we can improve your cash flow!
Eagle Business Credit Small Business Funding
You can leverage the capital in your A/R as collateral for immediate cash on hand. Factoring works by providing instant payment for your open invoices. This means we pay your business the same day you deliver the goods or services to your customer. You don't have to wait 30 or 60 days to get paid. Eagle's invoice factoring provides fast small business funding.