If you're searching for a means to increase your working capital without taking out a bank loan, borrowing from friends or family or using your credit cards, there's no need to look any further. You can try financing your accounts receivable in Austell, GA, as a funding solution for your business. Accounts receivables are quick assets that you can sell to a "factor," at a discount. This practice is vital if you want fast money to fund operations, but don't have the time to wait for your customers to pay or qualify for a business loan from your bank. Here's how working capital funding can be an advantage to your business:
Quick Cash
Accounts Receivables Finance provides you with cash for your invoices on goods and services delivered. Just send your invoices to the Factor and you can get money. It's that easy. Borrowing from banks takes time and the amount you can receive will be fixed stopping your potential for growth once you have drawn down your full line of credit. High cost alternative lenders should always be out of the question, especially if your business is in desperate need of funding. Your Factoring line will grow with your business – the more you invoice, the more you can receive. Imagine being able to buy more inventory, invest in additional equipment, hire additional staff all without the worry of paying for it if your customers delay paying you.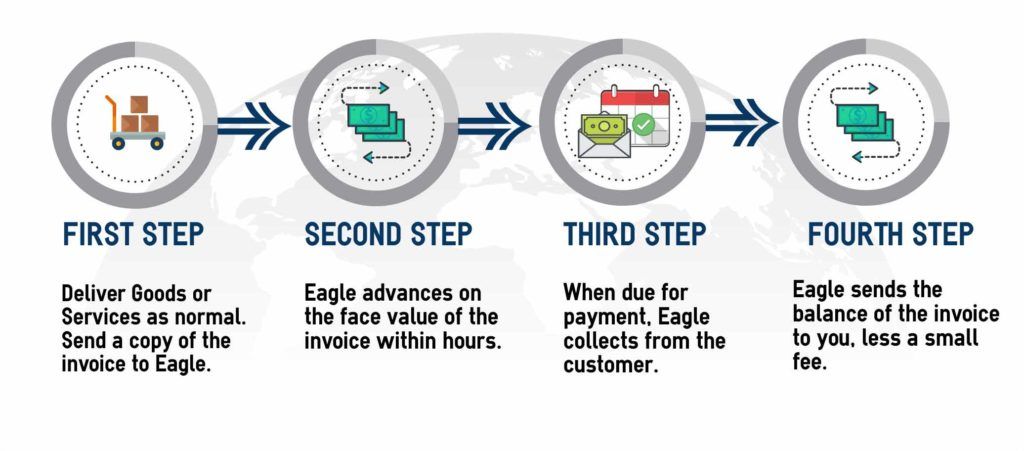 Credit Rating Improvement
Working capital funding can improve your credit score because you can use the proceeds to pay for outstanding obligations to avoid late payments. Maintaining your credit reputation is important because you can use your good credit standing when you decide to expand, acquire new equipment for the business or purchase more inventory from a supplier. Getting paid so quickly can also help you to negotiate early payment settlement discounts with your vendors helping you to improve profit margins.
No Lengthy Application Process and Limited Credit Investigation
Since working capital funding (Factoring) does not involve loans or credit, you don't need to worry about extensive credit inquiries and a tedious application processes to get the cash you need to fund your business. Just provide some basic information on your business, and you can walk away with money to use however you want, in no time at all, whatever your credit rating. As factoring primarily looks at your customers, poor credit ratings are not as important to a Factor compared to a bank in qualifying you for a facility. Your length of time in business is not important and neither is a strong Balance Sheet or business profitability.
Business Continuity
Another benefit of receivables servicing in Austell, GA, is business continuity. All types of businesses experience low seasons, but it does not mean that business owners should close their doors. Just make sure that you use the proceeds from selling your receivables on your business operations, and not on some personal purchase that will not earn you money later on.
Avoid Collecting Accounts Receivable
Accounts receivable collection can be stressful and time-consuming and you already have so much to do without adding more work. Selling to other businesses always carries the risk of non-payments especially if you don't have access to expensive credit monitoring tools. You'll be better off focusing how to improve your operation than trying to figure out how to run after people who owe you money. Selling your receivables to a factor takes care of that problem. For free! That's right, FREE. It's included as part of the financing agreement. Imagine being able to obtain expensive and valuable credit evaluations of your customers plus a top-notch collections service from experts and not having to pay a dime for it. Why wait to get paid?