Customer reviews are important. The Yelp effect shows that reviews affect revenue. A one star increase on Yelp translates to about 5 to 9 percent increase of revenue. 90% of consumers read online reviews before visiting a business. And 88% of consumers trust online reviews as much as personal recommendations. Thus, it is important to respond to customer feedback and implement the necessary changes to provide the best service to your consumers.
Responding to Negative Reviews
It's important to focus on providing the best service to all of your clients, but sometimes there will be someone who slips through the cracks and feels neglected or worse by your business. Take this opportunity to display the human side of your business. Your response to this customer can do several things.
You could repair the damage done and regain a loyal customer, showing other consumers that customer service is important to your business
You could apologize, lose the customer, but still show other consumers that customer service is important to your business
You could not respond and miss an opportunity to provide top-service to your customers
Should You Buy Good Reviews?
Buying 5 star reviews is a dangerous game. First, paying for reviews can violate the terms of service on many review platforms and can result in severe penalties for a company, including being banned from these platforms. Next, it erodes the trust of customers. When a company buys positive reviews, it misleads potential customers and can lead to purchases based on false information. This can lead to damaging customer trust and possibly negative reviews when the product or service does not live up to the purchased praise. Last, skeptical consumers will mistrust a perfect 5-star rating of your business. Amazon review buying schemes and Google reviews with verbatim writings can sow the seeds of skepticism in consumers. Skepticism can lead to purchasing from a competitor, and a business goal with customer reviews should largely focus on building trust. This is why negative reviews matter.
Why Do Negative Reviews Matter?
First and foremost, potential customers browsing reviews are looking for a reason to trust or mistrust a company's products or services. Negative reviews, when handled in a way that represents the values and service of your company, can be a growth opportunity. Not only do you have an opportunity to provide a great customer service experience and impression for potential customers, but you also have voluntary feedback of your operations. You can learn from customer reviews and implement processes in the future to avoid the repetition of a bad experience. By looking at the challenges of the customer, you can have a better understanding of how to provide better services.
How to respond to customer reviews:
respond in a reasonable amount of time (1-2 days)
investigate the situation and offer a better solution if one exists
show empathy along with professionalism that's in line with your brand
How to Get Positive Reviews:
Increasing the amount of positive reviews for your business is not a one-off challenge. Positive reviews come during all phases of the sales process, just as customer service is ongoing before, during, and after the sale. If you listen to customer feedback, offer a great product, and focus on providing great customer service for the life of the client, the reviews will come naturally. Be sure to respond to positive reviews, too. A quick thank you goes a long way to show that you value all feedback.
Growing Your Business With Reviews
When you take the time to respond to reviews—good and bad—from your customers, you show how much you value them. Customer retention is much less expensive than new customer acquisition. If you keep your customers happy, they will continue to do business with you. Having a growing business can mean making choices in how you spend your time, money, and other resources. A business financing strategy that offers the flexibility for growth can make these decisions easier.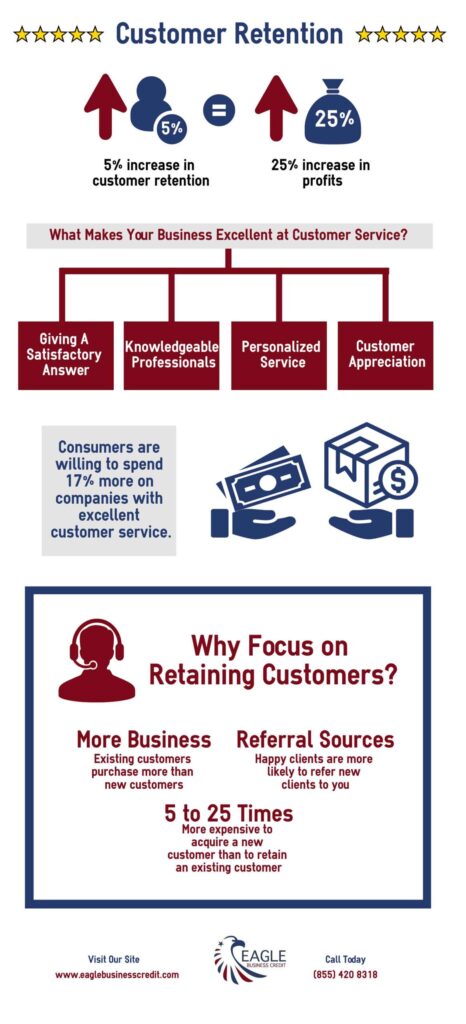 Financing Business Growth
Once you place a strategy to responding to customer reviews in order to maximize your business growth, start thinking about your finances. A growing business requires healthy cash flow to support the costs that come along with growth. Expect your overhead to increase with new additions to the team, marketing, or even expanding products. Additionally, more sales means more payments going out of your business to your suppliers for materials. Even if your revenue is increasing, you need the capital immediately to keep investing in your business to support the growth. This is where invoice factoring can improve your cash flow to accommodate small business growth. Selling your invoices to a factoring company gives you immediate payment for your open invoices. Rather than waiting the 30 to 60 day credit terms to afford your next sale, your business has access to the capital needed to grow!