If you pay attention to economic news, you may be concerned at an impending recession. There are some signs that we will see a period of recession soon. This does not mean you should panic and lay off half of your team. Instead, there are 3 main things you should do right now to recession-proof your business.

Update: August 2022: When Will the Next Recession Be?
It's been over a decade since the last major prolonged recession in America. Unemployment is low, the treasury bond yield curve inverted, and inflation has been on everyone's minds. Ultimately, no one can say for sure when the next recession will be, but it is a good idea to prepare your small business for its arrival.
Will Your Business Need Funding During a Recession?
The first major consideration is whether your small business will have access to reliable funding during a recession. Bank lending tightens during recession. This means the traditional sources for small business loans are most likely going to deny you or not offer the full amount you are seeking. It is no secret that small businesses fare worse during recession than bigger businesses and this is just one of the factors behind that. However, there are other financing options that will support small businesses during recession. Online loans, invoice factoring, equipment financing, and government programs are some alternatives to bank loans for small business owners. There are pros and cons to each of these funding options, so be sure to do your research before signing a contract.
Is Your Small Business Recession-Proof?
Is your business ready for a recession? Have you taken the necessary steps to make sure your business not merely survives but thrives the next economic downturn? If not, here is how you can recession-proof your business now.
How to Recession-Proof Your Business:
1. Plan
Now is the time to plan ahead for any bumps in the road. When was the last time you reviewed your business plan? Is your budget sustainable? Are you spending too much on unnecessary expenses? What can you eliminate or reduce in your costs? Tightening your belt should be the first step in preparing for a recession, but beware of slashing too much.
2. Market to the Max
Most businesses reduce their marketing spending and efforts, but not you. You will use this time to increase your marketing. Your business will gain visibility during a recession because your aggressive marketing strategy will be more effective with less competition vying for consumer attention. Increasing marketing is a long-term benefit for your business, too. The gains made during the recession will last after it ends. While your competitors are recovering from the recession, your business will be pushing forward with a larger presence than ever.
3. Diversify
Diversifying the services and products your business offers is a common method of growing your sales, but diversifying your client base can help protect your business. If your biggest client went out of business tomorrow, would you follow suit? Get ahead of customer concentration concerns. Increasing your marketing can help diversify your clientele, further protecting your business in the event of an economic downturn.
4. Bolster Your Cash Flow
82% of failed businesses cite cash flow problems as a cause. Will your business be able to make payroll or cover overhead during a recession? Will your business be able to fulfill orders and services for new clients? Think about which financing options will be sustainable and able to carry your business through a recession. Banks are less likely to loan to businesses during recessions, and online lenders charge sky-high interest rates.
5. Build a Solid Team
Some businesses panic at the first signs of a recession and start cutting costs in payroll. This is not inspiring or reassuring as the leader of your team. You want to be sure you have a solid team that is ready to weather the storms of recession. Part of having a strong team is making sure you never miss payroll. This can be tricky when your customers may be struggling to pay your business on time. If you don't have hefty cash reserves you may encounter a time that you cannot meet payroll on time. Payroll funding with invoice factoring can guarantee you have the customer payment for your goods and services.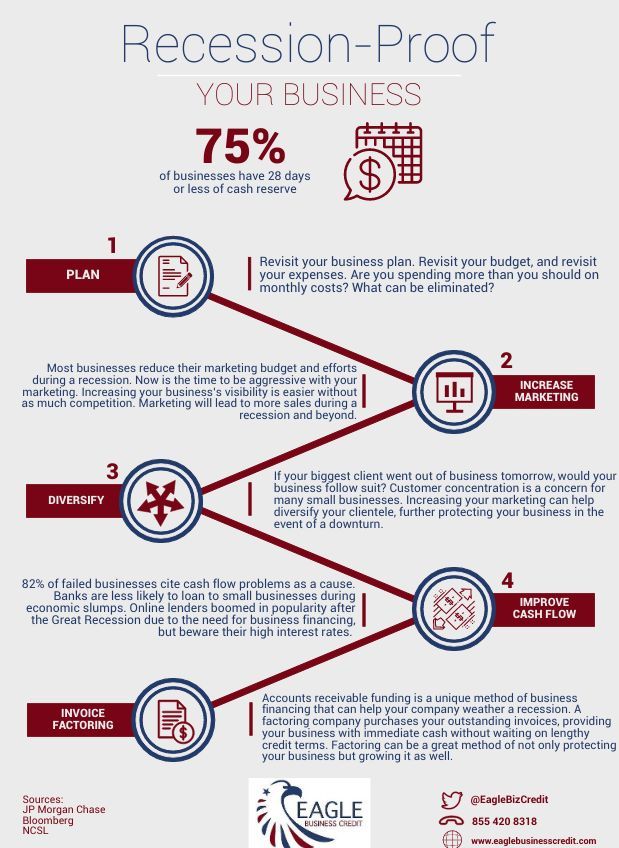 Recession-Proof Business Financing
Eagle Business Credit is a great financing option for businesses during a recession. Our accounts receivable funding is debt-free and tailored to your unique business. Approval decisions rely on the strength of your customers' credit scores, not yours. As part of our back-office support, we offer credit checks on your potential customers at no extra cost to you. Invoice factoring is a great method of not only protecting your business but growing it as well. Don't be caught on you heels when the next recession comes around. Take the necessary precautions now to recession-proof your business.
Update: July 2019
The trade war and steady signs of protectionism have done little to stave off an impending recession. Instead, businesses find themselves more concerned about the impacts of a trade war, the uncertainty of global markets, and retaining earnings from year over year growth.  The need for business financing, however, is unchanged. According to the 2019 Small Business Credit Survey, companies are still seeking financing. As the downturn becomes more apparent, small business will need to manage working capital to stay in business.