You've decided to start a business. This is exciting! You have a few names bouncing around in your head and a product that you can't wait to share with the market. Now it's time to slow down and make this vision a reality, and a profitable one at that. From your business structure to your target market to your pricing and everything in between, you have a lot of planning ahead. Here are 6 crucial steps to take when first starting your business.
1) Market Research
How sure are you that the product you're making has a demand? Who will buy your goods or services, and how much are they willing to pay? What need are you solving? Examine the existing market and competition. What is their marketing angle, sales volume, pricing, and unique qualities for their product? How will your business be different? If you can't answer these questions, then you should spend more time in your market research. What good is having a product if you are unable to draw customers to it? Determine what is unique about your product and use it to your competitive advantage.
2) Write a Business Plan
The importance of a business plan cannot be overstated. There are numerous articles and advice from founders that achieved success without one, but you have to remember that those stories are the exception and not the rule. A business plan not only helps with securing funding for your business, but it serves as the road-map to success. In the inevitable hard-pressed moments of business, return to your business plan and get back on track.
Click here for the 7 essentials of a well-crafted business plan. 
3) Pick a Name
This sounds like an easy step, right? Well not quite. It's best to name your business something relevant to your product. When people are looking for building business credit, Eagle Business Credit can appear in the search. This is a competitive advantage to our business model. Remember that episode of The Office when Jim founded 'Athlead' the sports marketing company? It's pretty easy to tell what that business does and an online search for sports leads may have Athlead as a top result. Be sure to check if the name is available. Is there a Top-Level Domain available featuring your company's name? (Tip: People trust .com websites more than most other options)
4) Structure Your Business
Alright you've done your research, and your business plan is written. Surely, it's time to quit and start your business, right? Almost. This will be the tedious part. How are you structuring your business? This should be included in your business plan, so it's a good thing that's already written. The structure of your business will affect the registration requirements, taxes owed, and your liability as the owner. Sole proprietorship does not separate the business obligations from your personal obligations. This structure can be difficult to find approval with traditional bank funding. Typically, this is used for a testing phase of entrepreneurship. A limited liability company (LLC) protects the business owner from any business debts, but this structure counts the owner as self-employed and is subject to self-employment taxes. LLCs have a lower tax rate than a corporation and provide a barrier of protection for an entrepreneur's personal assets. A C Corp or Corporation structure is completely separate from the owner(s), can make a profit, be taxed, and be held liable for lawsuits. This structure requires the most work in terms of records, reporting, and operational processing because it provides the most protection to an entrepreneur's personal liability. There are many other business structures you can read about here.
5) Register Your Business
Registering with the federal government is easy. Most businesses do not need to do any more than filing to get a federal tax ID. Other options are filing for tax-exempt status (for non-profits) or trademark protection (with the US Patent and Trademark office). In addition to federal registration, you must register with any state you do business in. This definition extends to having a physical presence in the state, recurring in-person meetings with clients within the state, employees working in the state, and having significant company revenue from the state. This registration will be online or mailing paper documents. In addition to state and federal registrations, you will need to secure any local permits, licenses, or registration specific to your industry.
6) Finance Your Business
Refer to your business plan again. Aren't you glad you already made that? How will you fund your startup business? If this is the first business you are starting, a traditional lender like a bank may be wary to approve a loan. An online loan will also likely have qualifications that a brand-new business cannot meet. Startup loans will require some time in business, so having the initial capital to launch will be a priority. Equity based financing is an option if you feel confident in your pitch and generous in your company ownership. If you are waiting on clients to pay on your open invoices, your cash flow will be strained. Working capital financing is in your best interest. Your business needs the ability to grow, pivot, and cover overhead. This is where accounts receivable financing or invoice factoring can hep your startup business. Invoice factoring services are good for entrepreneurs worried about a credit check hurting their funding potential. Factoring companies do not require a long time in business, a high credit score, or personal collateral. Instead, funding decisions are evaluated on the basis of your customers. If you have credit-worthy clients, you will be privy to a facility that keeps your cash flow strong and grows with the volume of your sales.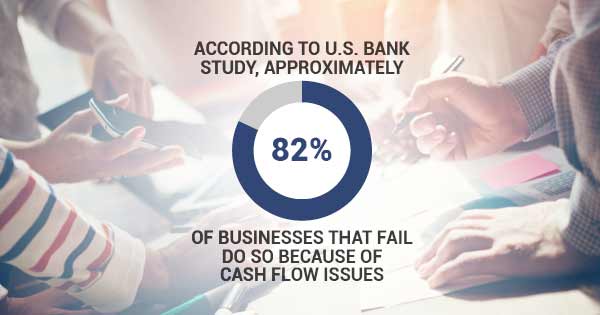 Invoice Factoring as Startup Funding
Startup success is achieved through careful planning, acquiring and retaining talent, and going above and beyond for your customers. When you start your own business, you will be required to fill a lot of new job roles. Human resources, accounting, sales, marketing, and operations will require your attention on a regular basis. Consider outsourcing the tasks that eat up your time, so you can focus on the core of your business. Keep your business financed with a finance option that grows with you. A line of credit offers flexibility to your business funding, but you must have some time in business and a high credit score to qualify. Being able to offer competitive employee benefits and events that maintain company culture and values will help to attract and retain your top talent. Following your business plan will keep your business on track, even if there is a bump in the road to your startup success, and staying up to date with taxes and regulations will ensure you are not subject to any penalties that accrue large fines that can kill your business.